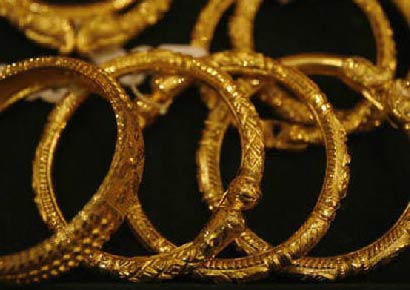 Tracking strong global cues, gold on Saturday soared by Rs540 per ten grams to fresh all-time high of Rs32,450 in the national capital.
Prices of gold (99.5 purity) in Kolkata increased by Rs620 to Rs32,425, while rates in Chennai rose by Rs710 to Rs32,325 per ten grams. In Mumbai, the precious metal's rates surged by Rs605 to Rs31,955 on Saturday.
"The domestic gold prices are rising purely due to global development. After the announcement of potentially unlimited bond-buying by the European Central Bank (ECB) and unfavourable non-farm pay roll data of the US, international gold prices shot up," SMC Comtrade chairman and managing director DK Aggarwal said.
Global prices rallied as poor non-farm employment data indicated serious job problems in the US and its weak economic situation, traders said.
The US data also brightened chances of announcement of stimulus package by the US Federal Reserve in its forthcoming meeting, Aggarwal said, adding that these developments are driving prices of gold and silver.
Gold prices in New York shot up by $34 to $1,735.30 an ounce, its biggest single-day gain since February 29.
Aggarwal said there is not much of physical demand of gold in the country. However, jewellery demand is expected to pick in the wedding and festive season.
Echoing similar views, All India Sarafa Association General Secretary Surender Jain said: "Local gold price, which moves in tandem with global rate, is expected to see more peak levels in coming days."
In the domestic market, silver prices also rose by Rs2,100 to Rs61,800 per kg on increased offtake by industrial units and coin makers.